Neftlix'in yayımladığı 13 bölümlük Punisher dizisinden 25 Easter egg çıkardık. Daha çok fazla Easter Egg vardı aslında ama bir çoğunun gereksiz olduğunu düşündüm. Ayrıca bu içerikte bana yardımcı olan Ogeday Kahraman'a teşekkür ediyorum, kendisi baya sağlam Punisher fanı 😀 Neyse, buyrun yakaladığımız Easter Egg'ler!
1- Muhammad Ali vs George Foreman


PTSD'den dolayı acı çeken ve babasını Muhammed Ali vs George Foreman maçını izlediğini gören Lewis ile biraz vakit geçirdik. Belki bu tesadüf olabilir, fakat o maç 1974 yılında yapıldı ve bu yılda Punisher "Amazing Spider-Man #129" çizgi romanında gözüktü. Ayrıca Frank kendisine morun çok yakıştığını da söyledi.
2- Moby Dick


Punisher dizisinin ilk bölümünde, Frank'i 1851'de Herman Melville'in yazdığı, hayatını mahvettiği için balinadan intikam almak isteyen kaptanı anlatan Moby Dick kitabını okurken görüyoruz. Punisher'ın hikayesine oldukça benziyor.
3- Dorian Grey Kitabı


Punisher'ın 3. bölümünde Billy Russo karakterini oynayan Ben Barnes'ın okuduğu kitabın adı Dorian Grey, ayrıca 2009 yılında çıkan Dorian Grey filminin başrol oyuncusu da Ben Barnes idi.
4- Welcome back, Frank!


Macro, Punisher ile ilk iletişim kuruduğunda "Welcome Back, Frank," kelimelerini kullanıyor. Ki bu da 1990'daki berbat hikayeden sonra 2000 yılında Punisher'ın tekrar öne çıkmasıyla Garth Ennis'in kullandığı cümle.
5- The Gnuccis


Şantiyedeki adamlar soygunu planladığında Gnucci ailesini soydular. Orada psikopat Ma Gnucci'den bahsedildi. Belki de ileride görebiliriz.
6- The Defenders


Dizide nerdeyse hiç Defenders göndermesi görmedik ama Karen'in ofisinde bir gazetede "Sokakların Altındaki Kaos" başlıklı bir haber gördük. Bu kesinlikle Defenders'a gönderme.
7- The Zodiac Killer


Basın, Frank'in 37 kişiyi öldürdüğünü söyledi ama Frank bunun sadece bilinenler olduğunu söyledi. Bu gerçek hayattaki Zodiac katiline göndermeydi.
8- Pete Castiglione


Filmin sonunda aldığı kimlik olan Pete Castiglione, Punisher'in kullandığı isimlerden biridir sadece. Castiglione italyancada Castle demektir.
9- 
Pinball


4. Bölümdeki suçlulardan biri Diamond Select figürlerinden biridir.

10-The Dogs Of Hell

Motosiklet çetesi bir kaç kere MCU'da görülmüştü (dizilerde), Frank onların hepsini öldürdü.

11- The Dragon

Curtis Hoyle, Frank'in en iyi müttefikidir fakat bazı çizgi romanlarda villain da olmuştur. İsmi Thé Dragon.
12- Turk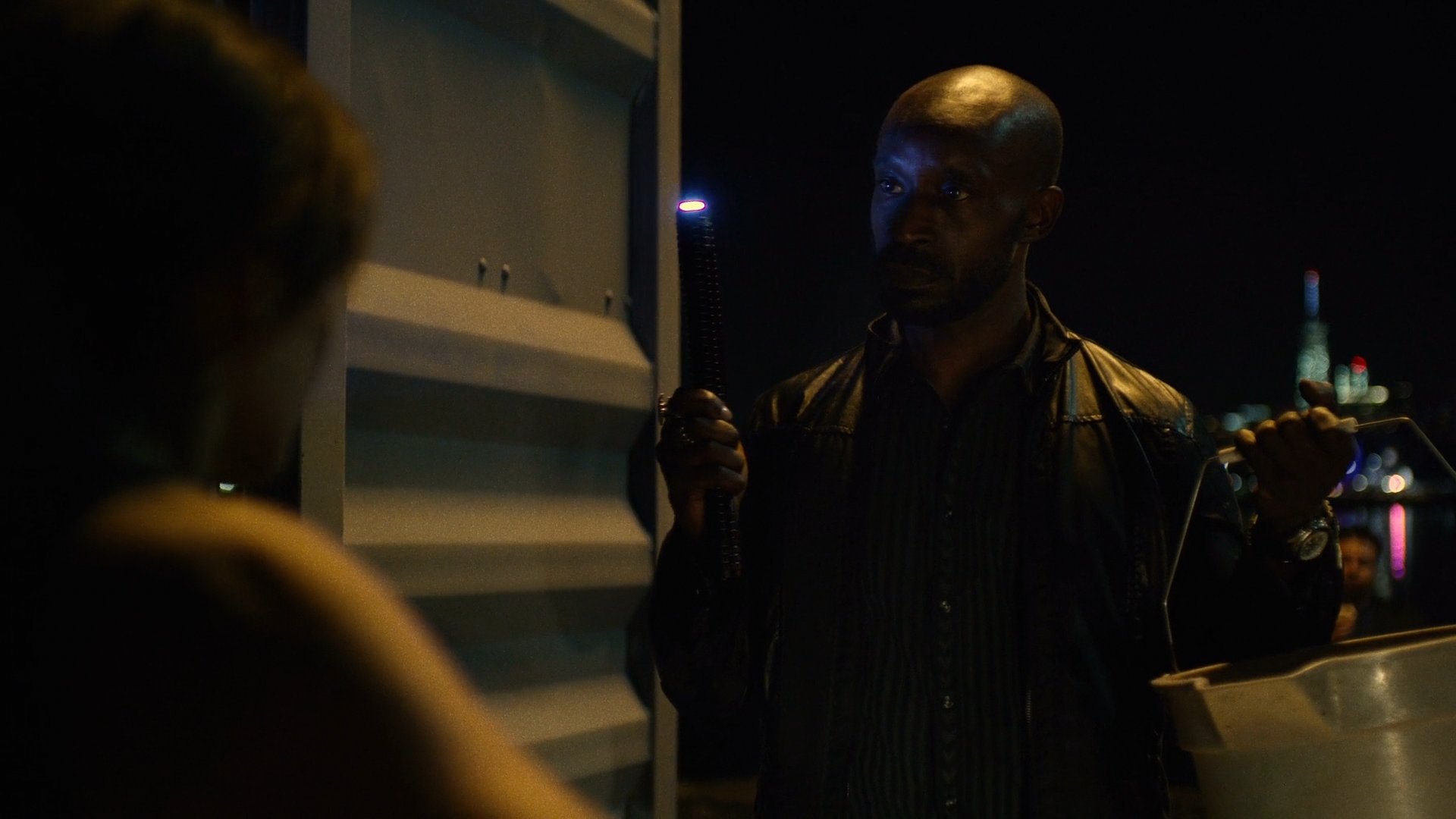 Rob Morgan'ın Turk karakteri neredeyse her Netlfix dizisinde görüldü. Hatta ismi Türk diye "Yunanlardan kazık yedim," diye bir diyalog bile var.
13- The Punisher (2004)


Frank'in zırhına kuru kafa spreylediği sahne 1989'daki filmde vardı ama diziden kesilmiş.
14- Jigsaw


Punisher'ın Billy Russo'nun yüzünü parçalaması, karakterin daha sonra ilerde karşımıza Jigsaw olarak çıkacağına gönderme.
15- Rawlins'in gözünü kaybetmesi


Punisher, dizide olduğu gibi çizgi romanda da Rawlins'in gözünü çıkartmıştır ve bu olay Punisher Max Vol 4: Up is Down Black is White serisinde geçmiştir.
16- Billy Russo'nun Limandan bahsetmesi


Billy Russo, Frank'in ailesiyle alakalı liman hakkında konuşuyor. O yer 2004'teki filmde ailesinin öldüğü yer.
17- Stan Lee Cameo


Stan Lee dizide NYPD'de bir posterde vardı.
18- Full Metal Jacket


Billy'nin söylediği "Ann Margret gelmiyor mu?" diyaloğu Full Metal Jacket'ta geçiyordu.
19- 
The Origins Of Agent Orange

Agent Orange yeni bir karakter olsa da dizideki hali çizgi romana çok benziyordu. Bu karakter çizgi romanda Captain America ve Nick Fury ile de kapışmıştı.
20-The Rolling Stones


Billy Russo için "Tatlı ve sağlıklı adam" lakabı Rolling Stones'un "Sympathy för Thé Devil" şarkısındaki bir söz.
21- Battle Van 


Çizgi romanlarda punisher silah dolu bir araç sürer. Dizideki "Van" onun ön hazırlığı.
22- Senatör Ori

Dizide silah karşıtı senatör aslında Marvelda bir Villain.
23- Memonto Mori


13. bölümün ismi olan Memento Mori, Punisher 2014 serisinde geçiyor ve dizideki aynı açıklama ile
24- Punisher'in öldürme şekli


Punisher Max  Vol 1 begging'deki öldürme şeklini dizide de kullanıyor.
25- Kesik Baş


Puniser'ın kesik başa bomba bağlama sahnesinin aynısı Punisher #218'de geçiyor.